---
Area Code
303

Information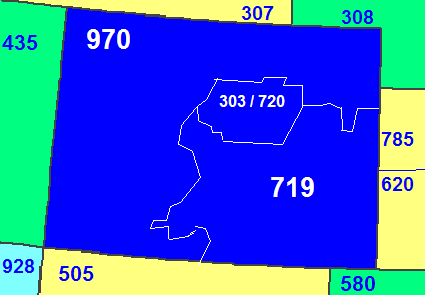 State:
CO - Colorado
Active:
True
Area codes 303 and 720 are telephone area codes serving the state of Colorado. They cover Boulder, Longmont, Aurora, Denver, Highlands Ranch and other areas in central Colorado. Area code 303 is overlayed with Area code 720, meaning that the same physical service area is served by both area codes (303 and 720) and that 10-digit dialing is required for all calls made within the service area.
Related Area Codes:
720
,
970
Get other Colorado area codes
»
Need Mobile Service in Your Area?
---