---
Area Code
951

Information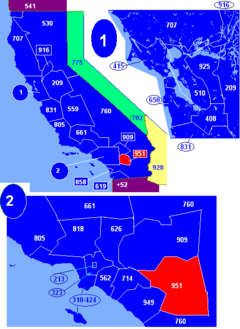 State:
CA - California
Active:
True
North American area code 951 is a California telephone area code which covers western Riverside County and was split off from the 909 area code in 2004. It covers Beaumont, Corona, Canyon Lake, Riverside, Temescal Canyon, Woodcrest, Arlington, Mira Loma, Moreno Valley, Perris, Sun City, Lake Elsinore, Murrieta, Temecula, Hemet, Lakeview, Nuevo, Norco, Banning, Eastvale, Quail Valley and Idyllwild.
Related Area Codes:
909
Get other California area codes
»
Need Mobile Service in Your Area?
---